Top 10 Selling Cars in Canada
Looking to buy a new car? Purchasing a new vehicle, whether for yourself, a loved one, or a child just learning to drive is always an exciting but potentially stressful time. There are a lot of variables to take into consideration. Who will be driving this vehicle? How often will you use it, and for what? What are you looking for in terms of safety rating? Appearance? Needless to say, you have a big choice to make ahead of you.
In this blog, we have a comprehensive list of the top 10 selling cars in Canada for you to look through and see just why these vehicles are so sought after.
The Current List of the Top 10 Selling Cars in Canada:
Some of the cars on this list have made an appearance on previous top 10 lists, and for a good reason. Newer models are beginning to rise in popularity as well.
Read on for a detailed list of the top-selling vehicles:
#1 Ford F-Series
The Ford F-Series stands as the top-selling car in Canada. There are numerous safety features available for the 2021 Ford F-150, including tire pressure monitoring, daytime running lights, stability control systems, emergency brake assistance, traction control, dual front side-mounted airbags, dusk sensing headlamps, and more.
The 2021 Ford includes an XL trim that includes a lane departure warning system and even a forward collision risk reduction system. Some features that you may have the option of including are the adaptive cruise control, 360-degree camera system, and evasive steering assistance.
Units Sold: 128,649
#2 Ram P/U
Recently, Ram's full-size truck option has been gaining popularity – so much that they made record sales in 2019. Due to 2020's auto sales crash, that sales level fell. Here they are again, making ground once more – despite low supply.
These powerhouses feature a high-strength steel frame that gives drivers the confidence of a stronger foundation. They are equipped with considerable stopping power and 14.9-inch standard brakes. They also include a 360 Surround View Camera, lane departure warning systems, blind-spot monitoring, guided parking, and smart braking tech.
Units Sold: 83,672
#3 Toyota RAV4
The Toyota RAV4 has been refined for dynamic performance and features wireless chargers, heated front seats, heated rear seats, and an adjustable driver seat.
It also includes numerous safety features, like a bird's eye view monitor, engine immobilizer, daytime running lights, stability control, traction control, dual front side-mounted airbags, front and rear head airbags, and so much more.
Units Sold: 57,972
#4 Chevrolet Silverado
The Silverado is bigger but lighter than its previous make. It has up to 15 available camera views and towing technology to help keep you more stable and secure on the road. The Silverado also includes all-around light coverage for loading up in the nighttime or early morning.
This vehicle also includes a multi-flex tailgate for improved loading and unloading, a heads-up display for valuable information, forward collision alert, automatic emergency braking, adaptive cruise control, a comfortable and secure cabin space, and much more.
Units Sold: 52,767
#5 GMC Sierra
The recent GMC Sierra boasts a number of safety features and advanced driver assistance technology. This pickup truck presents up to 15 available camera views, a heads-up display showing information like navigation, low fuel, safety alerts, tachometer, speed, audio, and even a prograde trailering system for drivers who can't wait to get out on their next adventure.
Units Sold: 51,492
#6 Honda CR-V
The recent Honda CR-V features the standard one-touch turn signals, power door locks, and a proximity key entry system that has a push button start.
It also includes a number of safety features to keep you and your family secure, including collision mitigation braking systems, auto high beams, side curtain airbags, a hull start and brake assist, immobilizer theft-deterrent system, and both collision and lane departure warning systems.
Units Sold: 44,495
#7 Honda Civic
Among this list is the Honda Civic, suitable for families who desire a trusted sedan and want peace of mind while on the go. The 2021 Honda Civic boasts an overall 5-star rating in several safety categories and includes features like electronic brake distribution, multi-angle rear view camera, advanced front airbags, and vehicle stability assist.
This vehicle also includes adaptive cruise control, front and rear cupholders, keyless ignition, and interior air filtration for the utmost comfort.
Units Sold: 20,243
#8 Toyota Corolla
The latest Toyota Corolla features an attractive black-and-bronze body kit with excellent performance and handling, 17-in flow-formed wheels, and a stylish interior.
Corolla also includes blind spot monitoring with rear cross-traffic alerts, ten airbags, engine immobilizer, a tire pressure monitor system, child-protector rear door locks, and an electric parking brake.
Units Sold: 33,181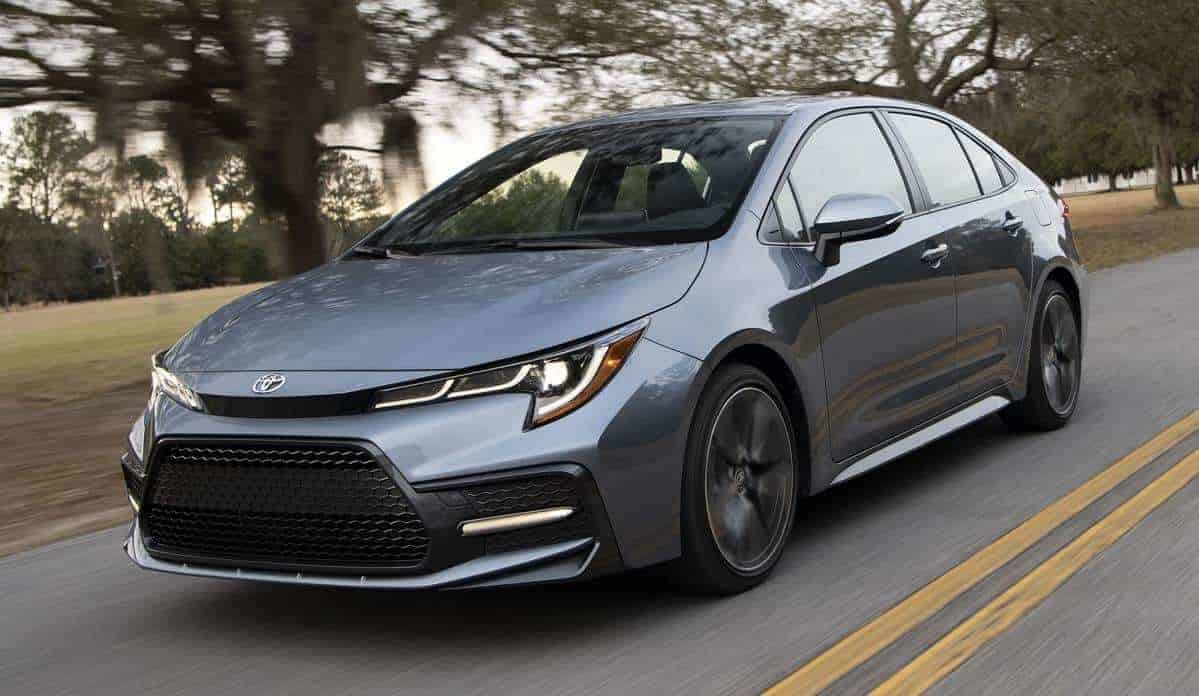 #9 Hyundai Kona
Coming in ninth place for the top 10 selling cars in Canada, the Hyundai Kona features a turbo engine and innovative design on top of the standard features. As a smaller SUV, the Hyundai Kona offers a lot of practicality and several quality safety features.
The Hyundai Kona offers lane assist, rear child safety locks, LATCH lower anchors and upper tether anchors, electronic stability control with brake assist and traction control, and forward-collision mitigation assist.
Units Sold: 26,641
#10 Nissan Rogue
The Nissan Rogue is lower down on this list but still remains among the top 10 selling cars in Canada for numerous reasons. It includes heated front seats, heated outside mirrors, and a heated leather-wrapped steering wheel for your comfort during the winter months.
In terms of safety, the Nissan Rogue includes a brake assist, 4-wheel anti-lock braking system, cruise control, forward collision warnings, lane departure warning, and blind-spot warning – among many other features designed to keep you and your passengers secure.
Units Sold: 25,998
Total sales
In 2020, around 1.54 million cars were sold. This number fell 19% from 2019 and was considered to be the lowest level in a decade. This is, in part, due to the pandemic causing mass shutdowns, loss of jobs, and general economic disruption. As of 2021, car sales have increased considerably, even though the market has not yet made a full recovery thanks to inventory shortages.
It is anticipated that car sales will eventually return to the same sales volume of 2013-2019.
Of the ten top-selling vehicles in Canada, here is the number of sales they made up:
Ford F-Series had 128,649
Ram P/U had 83,672
Toyota RAV4 had 57,972
Chevrolet Silverado had 52,767
GMC Sierra had 51,492
Honda CR-V had 44,495
Honda Civic had 42,996
Toyota Corolla had 33,181
Hyundai Kona had 26,641
Nissan Rogue had 25,998
Auto Insurance in Ontario
Auto insurance in Ontario is a necessity, no matter what kind of safety features your new vehicle is equipped with. In Ontario, auto insurance is compulsory and must include the following coverages:
Third Party Liability
Direct Compensation-Property Damage
Accident Benefits
Uninsured/Underinsured Driver
It is mandatory to have $200,000 in third-party liability coverage in Ontario, but your friendly insurance experts here at Excalibur Insurance recommend higher limits – around $1,000,000 or even $2,000,000.
While auto insurance may seem like another bill to tack on with purchasing a new car, it is critical to have and illegal to drive without. Thankfully, Excalibur Insurance can help you find affordable rates quicker than ever.