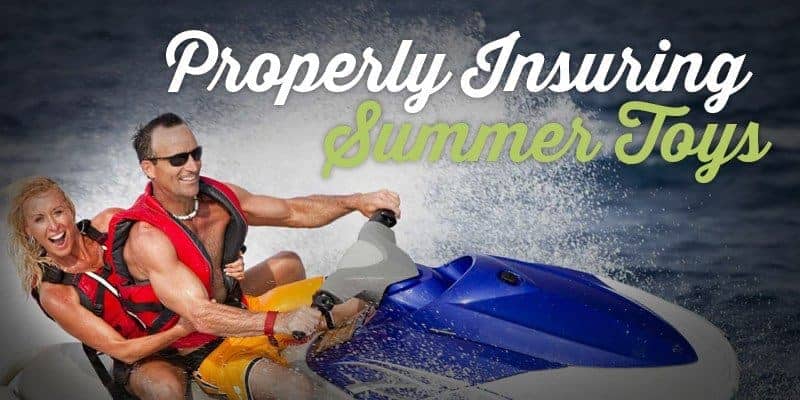 Properly Insuring Summer Toys
Summer is on its way! Before we know it there will be May long weekend barbecues and weekends at the lake. That's why now is a great time to review extra insurance coverage to make sure you properly insuring your summer toys.  The following summer time toys and items bring along with them risk and this should be reviewed with your insurance broker before these items come out of winter storage and get back into use.
RVs

Your motor home or travel trailer needs insurance coverage, especially if you'll be driving or pulling it this year. Even if you don't have a loan on your RV, you will want it covered for theft, hail, windstorm or fire damage. Whether they are parked on a lake lot for the season or you are driving it across the country you need to make sure you have the proper protection. You should all so consider purchasing some emergency vacation expense coverage designed to help you return home after a loss.
Excalibur Insurance Group offers several RV policies to fit your needs. Just call us for a quote or review at 1-888-298-7343.
Boats

The same thing goes for your boats and jet skis. You've made a big investment and it's important to protect them. Not only should you worry about damage to your boat, but also make sure you have the proper amount of liability coverage. Don't forget your life jackets!
Motorcycles

Ready to hit the road for a long drive? Looking attending the Friday 13th ride in Port Dover ? Remember to brush up on your safety skills and always wear a helmet. Don't forget to make sure your motorcycle has liability coverage just like your vehicle! Also if you have an expensive motorcycle you should consider purchasing collision and fire and theft coverage.   We can help you determine what coverage you need for your motorcycle insurance this summer.
Swimming Pools

If you own a pool, then you need extra liability coverage including consideration to purchasing a Personal Umbrella Policy. Why? Because there is a lot more risk of someone being injured when you have a pool. Don't skimp on your coverage and make sure you have the pool area secured and safe.
Summer is a lot more fun when you know that your high price recreational items are properly insured and protected.  We know it is the little things that matter – the open roads, waterways, relaxing days at your cottage and socializing with friend around your back yard pool.  Take 15 minutes to call us for a quote or to review your current coverage. Call 1-888-298-7343 today! Let us make your summer stress free.